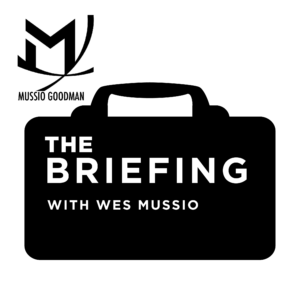 The Briefing Podcast is hosted by our Managing Partner, Wes Mussio as he shares his 25+ years of expertise with his audience. Now British Columbians can learn how estate litigation and personal injury laws affect them personally. The podcast also highlights the current issues with new laws introduced in British Columbia.
The weekly video podcast will be posted on YouTube for our subscribers and uploaded to the Mussio Goodman website. Mussio Goodman also uploads the audio podcast episodes onto iTunes, Anchor, Pocket Casts, Stitcher and Spotify.
The video podcasts are also shared on our Facebook and Twitter accounts when they are available to view or listened to.
THE BRIEFING: DISINHERITING A SPOUSE
THE BRIEFING: MENTAL INCAPACITY IN WILLS
THE BRIEFING: DISINHERITING FAMILY MEMBERS
THE BRIEFING: WHEN IS A WILL INVALID?
THE BRIEFING: PASSING OF ACCOUNTS
THE BRIEFING: DISINHERITING AN ADULT OR MINOR CHILDREN
THE BRIEFING: REMOVING AN EXECUTOR
THE BRIEFING: DISINHERITING ADULT CHILDREN
Get a free
consultation
Get a free, no obligation consultation. Our office will contact you within a few hours.
Get Started