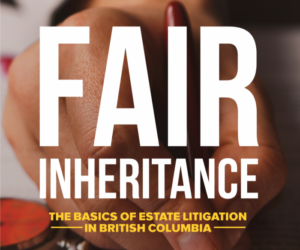 When a family member passes, invariably someone needs to take over the affairs of the deceased and ensure fairness in the distribution of the deceased's assets. In deciding who should control the wind-up of the estate, the Will of the deceased will be the key document to review for the answer.
The unfortunate part is that families are often complex with plenty of infighting. Wills are seldom completely fair and for that matter, many people die without a Will. In the result, there is plenty of British Columbia estate that end up in litigation due to and unjust distribution, or simply because the deceased did not expect to die, and therefore, did not properly manage the way in which his/her estate will be distributed upon death.
The lawyers at Mussio Goodman specialize in navigating the disputes that arise in such scenarios. Contact us today to see how we can help.
In the meantime, we have written a book, Fair Inheritance: The Basis of Estate Litigation, as a general introduction for a person learning about estate matters for the first time. The language is simplistic and so the book is intended to alert the reader to potential issues in the wind-up of an estate. Ultimately, it is good advice to consult a lawyer on your particular issue before proceeding. The book , however, will alert you to some potential pitfalls so you can focus your efforts accordingly.
Ultimately, we hope this book will help you understand the estate wind-up process, so you have the necessary background to get a fair result from your family member as it relates to the estate of a love one.
Check out reader's reviews on Goodreads which currently has a rating of 5.0/5.0. Fair Inheritance is also available at the Vancouver Public Library.
We are offering free copies of Fair Inheritance: The Basics of Estate Litigation in British Columbia to those who contact us at mussio@mussiogoodman.com.
What Assets of the Deceased Are Subject To A Wills Variation Claim
Get a free
consultation
Get a free, no obligation consultation. Our office will contact you within a few hours.
Get Started